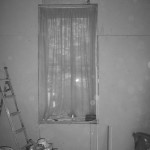 As you can see installing the insulation takes time – most of this is spent cutting to corners and to window reveals, and ensuring all is level and plumb before the adhesive is dry.
The photo for this post shows the wall insulation installed around the window to the dining room.  In the photo the edges had been approximately cut to suit the reveals.  The precise cutting was done with the insulation insitu, as I found this the easiest way to do it.
The boarding out is almost finished – I recommend you read the previous post on U-value calculations.