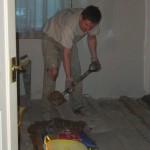 I have explained in a previous post that our apartment is constructed from a steel frame clad with brickwork.  Intermediate floors were also constructed from steel, between which formwork had been placed and insitu concrete poured.  The concrete was not poured level with the top of the flange of the steel beams.  As a result, concrete plinths needed to be formed between the steel beams to support the final floor finish and the sub-floor.  This is described below. 
The final floor finish will comprise the original 165mm x 18mm sanded pitch pine floor boards.  These were originally installed on timber joists resting on the steel beams, with short intermediate pieces of timber between the steel beams.  The joists and intermediate pieces were removed when the floor was lifted, as they would not permit the installation of a floor with sufficient acoustic performance.   
Below the final floor, the two acoustic layers are to be placed.  These will comprise solid wood floor self adhesive underlay, and 3mm foam.  Both of these come in rolls from B&Q/Homebase etc.  Below this, 18mm tongue and groove caberfloor chipboard will be installed.  The latter will be supported on 108mm x 27mm planed timber joists, with a further layer of acoustic insulation between the joists and the caberfloor.       
The steel beams had been set out at one yard centres.  We placed the timber joists on the steel beams, but the centres between the joists would not be adequate to support the caberfloor when walked on (e.g. it would 'dip').
We therefore formed concrete plinths between the steel beams, running parallel with them.  We mixed up the concrete on some ply, using quite a strong mixture of 1 part cement to 3 parts builders' sand.  We used the water sparingly so as not to weaken the mixture.  A piece of timber was used over the top of the flanges to tamp the concrete level.  Each plinth was formed as wide as the timber joist – refer to the photo. 
Care – when mixing concrete always wear gloves (we used garden gloves from a DIY store) – wet concrete dries out the skin shortly after contact.  
The concrete was left to fully set for around 4 weeks before the joists were placed.  The next post will show the installation of the new joists and the caberfloor.