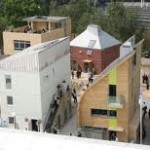 About the BRE
A slight deviation from my usual posts!  Last week I was fortunate to be invited to the BRE (Building Research Establishment) at Watford.  For those who don't know, this is the UK's premier establishment for testing building technology within the UK.  I understand that since they were privatised that they now provide their services on a global basis.
So why was I there?  Well, my interest is in the Innovation Park.  This comprises a large number of houses constructed to varying styles (they have from contemporary to the Prince's Trust house), all of which have high levels of thermal insulation and low energy usage.  The BRE run simulations (some of which pretend the homes are being occupied) to ascertain the thermal performance and energy consumption under laboratory conditions.  The property that I was most interested was the conversion of the Victorian Terrace, into a low energy building.
I'll tell you more about the innovation park later.
The day started early – I had to catch the train from London to Watford for an 08.30 start – just made it!  After tea and coffee, a large part of the morning was spent listening to a talk by the BRE.  I made a few notes as it went along because some of the points raised are quite interested.
Monitoring Properties
It transpires that the BRE is currently monitoring 600 no properties around the UK.  These were located using the now defunct Pathfinder scheme, TSB (Technology Strategy Board), and some they initiated themselves.  Apparently details can be ascertained on the 'National Refurbishment Centre' website.
With the UK having the worst performing housing stock in Europe, circa 73% of carbon emissions are from space and water heating, and 27% from lighting and appliances.  The BRE said that they visited one house which was so energy inefficient, and the owners income meant they were classified as being on fuel poverty (defined as when a household spends 10% of its income on fuel), that they all basically relaxed, ate and lived in one room (which was the only one they heated in the home).  This changed after the home had been insulated.  They showed a slide of a thermal image prior to insulation – the heat loss was so great, the thermal image even showed the outline of the radiator in one of the upstairs rooms!
But the insulation programme will not be quick and easy, due to the scale of numbers.  70% of hard to treat – 9.2 million homes (which comprises 30% of all dwellings) have solid walls.  The targets are to reduce carbon emissions by 20% by 2020, and by 80% by 2050.   The biggest gains will be by insulating solid wall properties.  This is because:
Of the 15.8 million properties in the UK with cavity walls, 11m have been insulated.
Of the 7.9 million properties with solid walls, only 113,000 have been insulated.
And if you live in a house, 23 million have received loft insulation.  But how deep is yours?  Only 13.7 million homes apparently insulation greater than 125mm.  Consider topping up – the Cert funding  (which currently has incentives such that 3 rolls can be bought for the price of 1) runs out in October 2012, and it is not clear whether it will be renewed.  I can just see a a queue of cars at out of town retail parks this weekend with people topping up!
Insulation, Lifestyle and Renewables
The BRE has comments on the current trend of homeowners to install renewables – whether heat pumps, photovoltaics etc.  Like myself (and the Passivhaus standard) their preference (in order of priority) is fabric first, method of heating, lifestyle with renewables last.  Fabric was not just confined to insulation of walls, windows and lofts, but also to air tightness.  In relation to the latter, current UK Building Regulations are not particularly demanding in relation to air tightness.
The Victorian Terrace
After being split into two groups, we were provided with a guided tour of the Victorian Terrace.  From memory it had been constructed in three distinct periods, and I think that part of it was a coach house or stables to the former country house on the estate (the latter was the BRE's first office building).  Prior to renovation it was surrounded by scaffolding, and it would probably have collapsed if not for the remedial and renovation works which have taken place.
Different areas have bee insulated with different materials.  If you are considering doing a similar low carbon/energy saving retrofit yourself, here is a list of the various materials used:
After the above trip, it was back to the BRE lecture room for an excellent lunch which they had laid on.
Smart Technology
A short session was spent after lunch talking about Smart Technology.  The main items discussed were smart meters (which could be operated remotely by a phone, to adjust heating levels if you were coming home late or early), and homes having thermal stores (to try and remove the peaks and troughs in demand for power supply).
BRE Innovation Park   
The remainder of the afternoon was spent on a guided tour of selective properties on the Innovation Park – I really recommend that you visit the park, and for your information I understand that a Passivhaus will be constructed soon.  The properties I visited were:
The Cub House – highly insulated home for affordable or private use.  I really like the big open windows – reminded me of a contemporary German home.
The Renewable House – basically constructed from hemp, thermafleece and timber.
The Prince's House – built from lightweight clay blocks, which can be easily built using existing UK building skills.
The Innovation Park has something for everyone – if you have a Victorian Terrace, or if you are building a new home, it is well worth the visit.