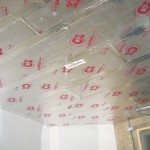 Suspended Ceilings (2)
One of my previous posts (Suspended Ceilings 1) provided details of the suspended ceiling system we used.  Like most other people, we could have just fixed plasterboard to the metal studs.  This would not really have achieved what we wanted from our refurbishment – to increase the insulation properties as much as possible in the main areas which can be insulated – floors, external walls and ceilings.
If we had just fixed plasterboard to the metal studs, we would have lost heat from our apartment through convection – we would have been effectively heating up the in situ concrete soffit of the slab in the Victorian Apartment above us, for the benefit of the occupants who live one floor above us.  In addition, in the absence of insulation, we would have suffered from a cold bridge where the in situ concrete floor slab above us abuts the inner face of the external wall.
Insulating Suspended Ceilings
We decided to install foam insulation sheets to insulate the ceiling.  The only penetration which would go through the ceiling comprised a wire for the chandelier.  Prior to installing the insulation, first fix electrics, first fix low voltage wiring for a home automation system (Netstreams), duct work for an MVHR heat recovery unit, and timber supports were fixed to the soffit of the slab to support the chandelier.
We measured the depth of the MF5 ceiling sections, as the insulation could not protrude beyond the depth, otherwise we would encounter difficulties when installing the plasterboard.  The MF5 ceiling sections are 25mm deep – we selected a foam Celotex board which fitted comfortably into this depth of section.  The edges had to be cut at an angle (we used a saw for this) so that they could be force fitted between the sloping edges of the MF5 ceiling sections.
If you force fix them into the sections the edges of the board compress slightly to give a good, tight fit.  We sealed the gaps using aluminium foil tape 72mm wide, which we purchased from screwfix.  This can be applied in one go to cover the the base of the MF5 and extending over the Celotex insulation.  This helps to improve the airtight seal.
Fixing the Plasterboard Suspended Ceiling
The Celotex insulation is quite light, and does not require you to install the ceiling studs at closer centres.  The final ceiling finish will be covered in the next article.  Instead of fixing ordinary plasterboard, we installed an insulated plasterboard laminate with an integral vapour barrier.  This will further improve the insulation qualities of the ceiling.  The laminated plasterboard is quite heavy – I will cover how we installed this in a future article.